enhance-massage-through-your-senses – Elements Massage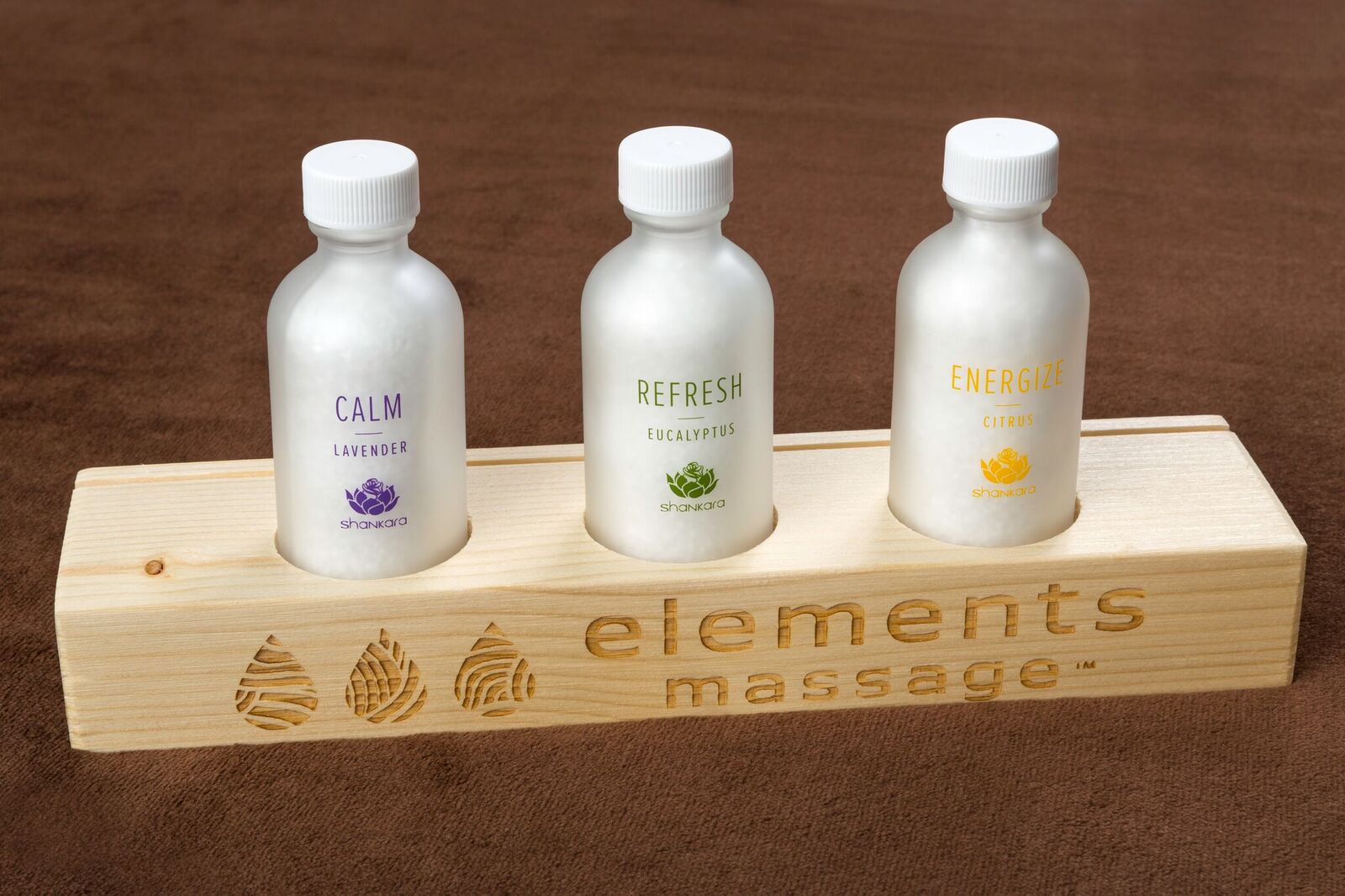 Elements Massage®, one of the fastest-growing therapeutic massage franchises in the nation, is pleased to introduce, AromaRitual™, the brand's newest line of exclusive aromatherapy treatments. With AromaRitual™, Elements Massage® clients can experience a personalized, immersive aromatic treatment. In addition to this new service offering, Elements Massage® partnered with Shankara, winner of the 2017 iSPA Innovate Award, to produce three custom scents – Energize, Refresh and Calm.
 "Aromatherapy taps into our sense of smell, which is tied to the part of our brain that processes emotion and controls our breathing, heart rate, and stress levels. This treatment helps stimulate the human nervous system, often leaving individuals with an overall greater sense of well-being," said Eric Stephenson, Chief Wellness Officer of Elements Massage.
The three new aromatherapy essences are 100% all-natural and Shankara's "do not harm" policy brings together the ancient science of life from the East-Ayurveda with the Western knowledge of modern manufacturing. As a result, they have created a unique, sustainable, and results-oriented line of essential essences, including:           
ENERGIZE 

Comprised of lemon, ginger, and geranium, this scent provides a stimulating and invigorating experience that uplifts the senses while providing balance and air purification for a deep cleanse.

 

REFRESH 

Eucalyptus, peppermint, and patchouli are combined for an enlivened, yet balanced and soothing experience. This naturally purifying and cooling scent freshens the air and supports deeper breathing for total relaxation.

 

CALM 

Lavender, nutmeg, and black pepper come together for a treatment that is not only uplifting, nurturing and relaxing, but it also actively helps to relieve muscle pain and treats headaches.
"Elements Massage® is committed to helping people achieve personal wellness so they can enjoy a more productive life and a positive impact on the world around them," shared Elements Massage® CEO, Jeremy Morgan. "The introduction of AromaRitual™ builds on our rich history of providing innovative, personalized massage services that address our client's needs and contribute to their overall wellness."
Find the Elements Massage ® closest to you and give this cutting-edge massage experience a try at your next appointment to see how it enhances your physical, mental, and emotional levels to promote a sense of well-being. We can't wait to see you.